(PROBABLE) WEALTHINESS
AND
(INTERNET) FAMOUSITY
AWAIT!
(To protect the environment,
we RECYCLE our ART ASSETS!)
Once again, in the third edition of Gang Garrison's HAXXY AWARDS we want to find and award the BEST of the BEST stuffmakers creating Gang Garrison-related content.
Do you think you have what it takes to win? Yes? No? Guess what - it doesn't matter!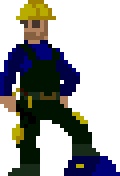 In HAXXY AWARDS we want to let EVERYONE enter, and we're certain that even YOU can find a category you can participate in!
Here's what we give prizes for:
BEST MAPS
BEST MODS AND PLUGINS
BEST SCREENSHOTS
BEST GG2-RELATED ART AND PIXEL ART
BEST MENU BACKGROUNDS
BEST FAKE UPDATE POSTERS
BEST GUIDES/TUTORIALS
OTHER COOL STUFF
A SPECIAL LOTTERY
YES! This year not only do we reward creating ANYTHING thanks to our "OTHER" category, but also let you try your luck in a special lottery.
And remember that as usual, we will be giving multiple awards in each category!
SO WHAT ARE YOU WAITING FOR?
Go, enlist and good BLOODY luck!