(PROBABLE) WEALTHINESS
AND
(INTERNET) FAMOUSITY
AWAIT!
YES! It's happening!
And it's happening
RIGHT NOW!
Just like last year, in the second edition of Gang Garrison's HAXXY AWARDS we want to find and award the BEST of the BEST stuffmakers creating Gang Garrison-related content.
Do you think you have what it takes to win? Yes? No? Guess what - it doesn't matter!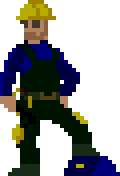 In HAXXY AWARDS we aim to let EVERYONE enter, and we're certain that even YOU can find a category you can participate in!
Here's the list of them:
BEST MAP
BEST MOD
BEST MOD IDEA
BEST PLUGIN
BEST SCREENSHOT
BEST Gang Garrison-Related Art
BEST FAKE UPDATE POSTER
OTHER Cool Gang Garrison-Related STUFF
Yeah, you see this?
OTHER COOL GANG GARRISON-RELATED STUFF!
That means you can enter with ANYTHING that has something to do with our game!
Want to make a movie? SURE!
Want to write a fanfic? ALRIGHT!
Want to send your cosplay photos? FANTASTIC!
Not only that, but we'll be giving multiple awards in each category, to make sure every good stuffmaker gets rewarded!
SO WHAT ARE YOU WAITING FOR?
Go, enlist and good BLOODY luck!